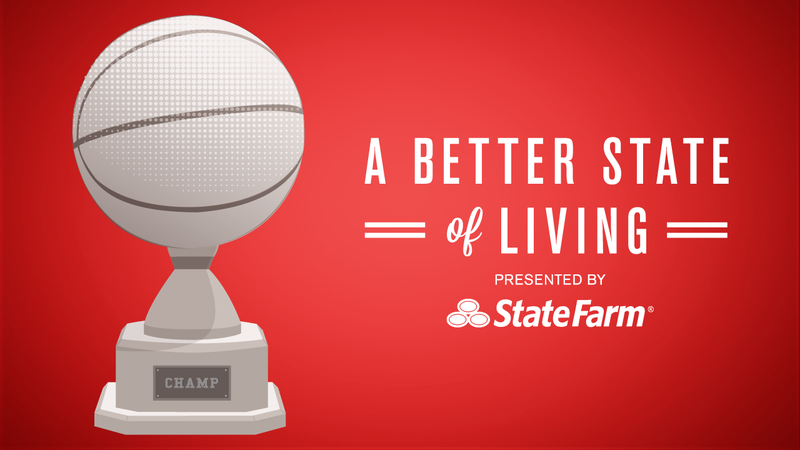 Deadspin's Better State of Living Conversation series is brought to you with the support of State FarmTM. Today, fantasy sports expert John Paulsen is live in the comments to answer all your questions about fantasy hoops.
There is a battle brewing in fantasy sports between season-long games and daily (or weekly) games. For football, the season-long format makes a lot of sense due to the repetitive timeline of the NFL season (games, waivers, set lineup, rinse & repeat). But for the NBA, MLB and NHL, the daily format is especially attractive for a few reasons:
You don't have to manage your team every day.
Some NBA, MLB and NHL leagues require daily lineups/waivers and that can be too much for the casual fantasy owner. Daily fantasy allows owners to play on their terms. Have a rough day at work and don't have time to set your lineup? No harm, no foul — the game will still be there tomorrow. And since there is no draft to attend, you can set your lineup whenever it's convenient.
You're not stuck with underperforming or injured players.
Anyone who has Andrew Bynum or Eric Gordon knows what I'm talking about. Sure, your daily fantasy lineup could be derailed for a night by a surprise pre-game or in-game injury, but the next day you can start fresh with a new lineup. A bad (or injured) second round pick won't haunt you for an entire season.
Want a particular stud? You can have him — for a price.
Typical daily fantasy games give owners a salary cap that they can spend on several different players to set their lineups. That means if you want LeBron James or Kevin Durant, you can have them, but you'll have to sacrifice salary elsewhere. Should you go with a lineup that features several studs along with several cheap players? Or should you go with a balanced lineup that features solid, low-upside players across the board. These are the decisions you'll have to make as a daily fantasy owner.
Here's a quick look at the process:
This the draft screen for "World B Free," which is DraftDay's daily freeroll. The payout isn't huge, but there's no entry fee, so it's a great way to get your feet wet and see how you do.
The list of players is on the right along with each player's price. You start with $100,000 to spend. I started my lineup with three Spurs — Tim Duncan, Tony Parker and Stephen Jackson — due to their good matchup with the Nuggets at home. The site shows that I have about $65K to spend, or an average of $10,858 per remaining player. Once the lineup is complete, all that's left is to see how you do.
Scoring is fairly straightforward, with one point for each point scored, rebound, assist, and three-pointer made, and two points for each steal and block. Players are penalized 0.25 points for each missed field goal, 0.5 points for each missed free throw and one point for each turnover.
Alas, I didn't win the freeroll, but at least I can draft an entirely new roster tomorrow. That's the beautiful thing about daily fantasy sports.
So take me on in DraftDay's $5 Challenge (it's free and the winner gets a cool $5), and then head below to ask me all your fantasy basketball related questions.
Illustration by Alexandra Cannon, Studio@Gawker