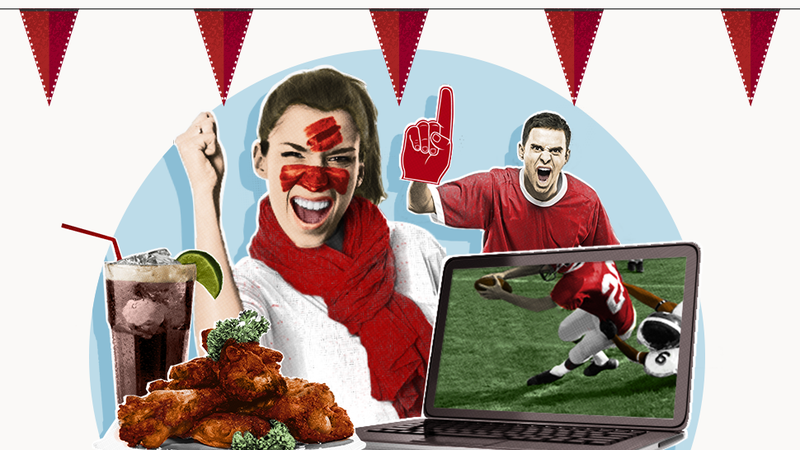 When it comes to hosting game-day parties, you have two options. You can go the jayvee route, where people sit around a cramped living room watching one TV that may or may not be showing an entertaining game, eating boring food and generally wishing that they had stayed home. The hosts of such parties get an obligatory thank you at the end of the afternoon, but no one really is particularly eager for a repeat.
Then there are the varsity hosts. These are the people who think of things that people need to enjoy the game before they even know that they need them. Want to get the call up to the varsity? Just scroll down to the bottom of this post for a handy checklist and get ready for your friends to bug you every Monday afternoon to see if you're down to host again the following weekend. Here's everything you need to double check before the game, thanks to the masters of the double check: State Farm.
Rule number one is to invite people who actually want to watch the game, whether they have a vested interest in it or not. Nothing kills a fun vibe like the person who can't stop monopolizing the conversation to talk about their work drama, or keeps walking out of the room complaining that they "just can't see why people care so much about this."
When you're throwing any kind of party it's important to balance out the gender ratio, and football Sunday is no different. Unless all your friends are hipsters who openly disdain football because it's sooo mainstream, the ladies in your social circle will enjoy a party with good food and fun people regardless of whether they are diehard fans. Besides, when there's a lull in the action, it always helps to have some casual flirting opportunities to keep things lively.
It's always good to have the local game on constantly — chances are that's the matchup most of your guests will care about (unless you live in northern Florida). A decent TV for this game is a must, and make sure it's angled properly so everyone can see it. If you want to really step it up, splurge on a cable/satellite package that allows you to toggle between the other matchups, and set up an extra TV or monitor to show that feed. Being forced to sit through a boring game with no other options will have people bolting for the nearest sports bar.
Can't afford the good stuff? Then set up a Twitter list composed of live game updates so your guests can consult your computer for developments as they happen. Speaking of computers, it's good to have one available for your friends to check their fantasy scores as well. The majority of people at your gathering are likely to have at least one fantasy team that they'll obsessing over all day, and the apps on their smartphones generally don't allow add/drops on Sundays (to prevent server overloads and irate owners).
Fantasy and Twitter have completely changed the way people experience Sundays. Your friends laughed at your joke about leaving your wife for Aaron Rodgers, which means it's time to Tweet that sucker! Of course, continuous use means that those smartphones are gonna be running on fumes by the time the 4:25 games roll around. Want to be a hero? Have multiple chargers and extension cords on hand for all kinds of smartphones.
Even if you're providing enough food and beverages for everyone, people are going to bring stuff, because that's just common courtesy when you go to a party at someone's house. So make sure you have extra fridge space cleared out. Better yet, get a cooler with ice or a mini-fridge that can be kept right in the room.
You could always offer standard fare like wings and chips and dip, but why not get creative? For heartburn enthusiasts, make bacon-wrapped hot dogs covered in melted cheese (aka Heart Torpedoes). A big platter of buffalo chicken dip with Fritos (tortilla chips break too easily) is another great option.
But not everyone likes hating themselves on Monday morning, so have some healthy options as well. You're not in the frat house anymore; you can put out a veggie platter with hummus without someone questioning your masculinity. Don't forget to check if anyone has food allergies, or conditions like gluten or lactose intolerance.
Last but not least, stock up on the TP. And don't be a cheapskate; get the fluffy stuff. You're having a bunch of people over and feeding them buffalo dip — do you really want to skimp?
Double check your game day, then double check with your extra-helpful State Farm agentfor discounts up to 40% on auto insurance. See how that works?
This post is a sponsored collaboration between State Farm and Studio@Gawker.
Craig Lowell has written for Sports Illustrated, The Fan Hub, The Sports Post, NBA Entertainment, and the North Adams Transcript. Follow him on Twitter @craigrlowell.