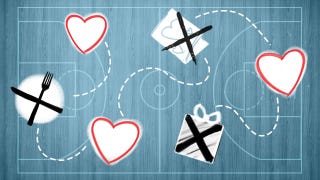 Are you one of those long-term-relationship guys with delusions of Valentine's Day laziness? Do thoughts like, "She regularly sees me in my laundry-day underwear; the romance is gone," or, "A night of leftover takeout and a Breaking Bad marathon is romantic" float through your brain? Well, you're wrong. Despite the fact that it's All-Star Weekend, you've got to make some kind of effort.
Here's a simple guide to impressing your love interest, winning Valentine's Day, and still keeping up with all the All-Star Weekend goings-on — with a major assist from State Farm.
The Meal
A home-cooked meal is always a good approach — if you're capable of pulling it off. A pot roast is a relatively simple dish to accomplish and looks damn impressive. That said, don't force it: if you aren't a solid chef, February 14 isn't the night to experiment. If you get a meh meal at a restaurant you can blame the chef, but if you scorch your own homemade risotto, that's on you and you alone. (Home-cooked meal bonus: watching the All-Star Celebrity game while you wait for your pot of water to boil.)
But chances are, you'll be going out for dinner. (If you haven't made reservations yet, good luck.)
Foul: You forgot to make reservations at Chez Fancypants and you get a two-hour wait estimate.
Defense: Grab a seat at the bar, order the Valentine's Day drink special and order an appetizer so she doesn't get hangry. Pass the time by bringing up how beautiful she looked on your first date.
All-Star: Return to the site of your first date and recreate the magic that defined the courtship phase of your once-thriving relationship.
The Note
If you're scrawling your name inside a generic drugstore card ten minutes before you meet up, you're doing it wrong. A thoughtful card and sweet note shows that you truly know her, and proves you've taken the time to choose something that might please her. That goes a long way.
Foul: You forgot a card altogether.
Defense: Recite an extemporaneous poem in the middle of the street. Think Lloyd Dobler here.
All-Star: Find some sort of symbol or trinket that hearkens back to the beginning of your relationship. An accidentally saved three-year-old ticket stub from a concert you both attended can yield huge dividends in the thoughtfulness department.
The Gift
Jewelry, bath and body products, and other staples (including lingerie) are totally acceptable — provided you get specific. Find out if she's into rose gold or matte gold (yes, there are different types of gold). Check what brand of lotion she wears and get her the lotion and the body wash. Ask other women what she'd like — friends, sisters, employees at the stores at which you are purchasing her gift.
Foul: You didn't get her anything.
Defense: Tell her you're saving up for something special. On February 15, start saving up for something special. Then give her that something special within a week or so.
All-Star: Talk about taking a trip together. It will insinuate that you'd prefer to traveling with her over watching basketball in your home shorts. Warning: she will expect a follow-through, so be sure you can afford a jaunt.
The Trappings
What about the candy hearts, the chocolates, the dozen red roses? Cheesy, yes. Necessary, no. Icing on the perfect Valentine's Day cake you've created? Absolutely. Don't grab a dusty heart-shaped box of low-quality chocolate at the pharmacy. Instead, pick up some bacon-flavored artisanal stuff at one of those specialty stores you usually walk past. Or keep your eyes peeled for a dude selling flowers on the way to dinner and snag a single rose. That kind of impromptu gesture is usually rewarded with goodwill that will last all the way through dinner.
Foul: You give her a rose and she calls you out for being trite and pedestrian.
Defense: Agree, and play it off. Yes, you're playing into a tradition, but you couldn't help yourself; it's not your fault you're such a romantic guy.
All-Star: Stop by the pasticceria in your neighborhood and stash a mini cheesecake in your fridge at home for you both to enjoy when you get back from dinner.
You like being in a relationship, right? Well, then on Valentine's Day, the name of the game is thoughtfulness, time, and attention. A bad meal and some decade-old chocolates will not get you unconditional love and several uninterrupted hours in the man cave during All-Star Weekend. So show your significant other why you love her.
Here's to you managing to seamlessly execute this State Farm-assisted Valentine's Day game plan. Then head here to learn more about how State Farm can assist you in your non-love-life-related endeavors.
Megan Gilbert is the Content Director of Studio@Gawker. Her Valentine's Day work has appeared on Deadspin and her sports-related work has appeared on The Rumpus. Hearts and flowers 4eva.
This post is a sponsored collaboration between State Farm and Studio@Gawker.
[Image by Alex Cannon, Studio@Gawker]